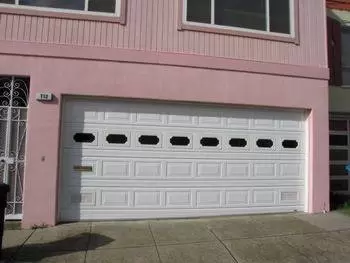 This picture of a home near Lombard Street during a recent visit to San Francisco. Note the contour of the bottom panel, the location of the mail slot and two vents, plus the placement of the windows. Martin Door Manufacturing can customize a garage door to any setting, with hundreds of options, big and small.
Custom Garage Doors
There's no better place to illustrate how to customize a garage door to a unique home and location, than the world's most crooked street —Lombard Street in San Francisco.
Lombard Street is famous for having a steep, one-block section that consists of eight tight hairpin turns. At the base of the road on Russian Hill near Hyde and Leavenworth Streets is a pink home featuring a unique Martin Door, whose design and construction is hardly something any manufacturer can easily produce.
The door's bottom panel, which is cut to the contour (described as scribing a section in Martin's pricing book) of the street's slope, includes a mail slot and two vents and windows one panel lower than most garage doors.
For a custom garage door manufacturer, like Martin Door Manufacturing, designing a door to fit into the unique setting isn't uncommon.
"Every customer can get a garage door unique to their needs and wants, without any compromise on safety or quality," Dave Martin, chairman of MDM said.
Customizing the door can go from the small detail—like a mail slot in a specific part or panel of the door—to the bigger issues of colors that blend with the home or windows. There are also texture options, low gloss versus high gloss paint choices and the ability with aluminum doors to buy duo-tone colors. Martin also offers options for people with low clearance headroom in the garage, or people who want their garage door to extend higher to be up and out of the way through use of a track extender.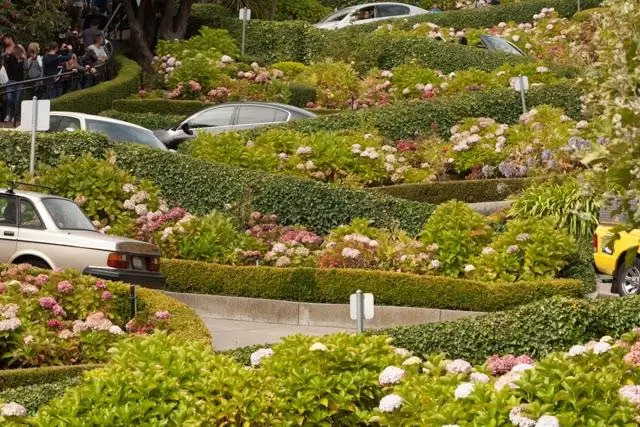 Michael Martin, director of Advertising, said the sky is almost the limit for the designs that are available for a customer, especially for extruded aluminum models.
"If they can dream it, we can probably build it," Martin said.
Each Martin Door is customized, thus the little things and enhancements can be specifically targeted to the customer.