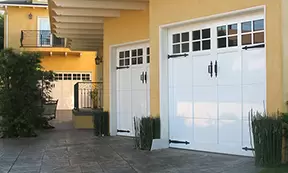 Farmhouse style is the rage of the day. But how can garage doors complement this style? The modern-day farmhouse style calls for simple feelings of warmth and comfort. It's a traditional look, but in a comfortable in a way that makes you want to put your feet up and stay awhile. The farmhouse style is similar to country, carriage house and ranch house styles, but with it's own look and feel. The key is "Rustic." It's a combination between rural, urban, old, new, formal, informal and functional.
There are many ways to add this style on the front of your house, and the garage door is certainly a big portion of the front of your house. We're speaking of curb appeal. Think of porches, old farmhouses and barns, and a feeling of comfort and
welcomeness. A classic farmhouse look is all about a down home feeling.
Farmhouse Elements
In a farmhouse, we find a combination of elements.
The look of real wood

Focus on wide planks

Try to get a "barnboard" feeling
A mixture of wood and metal

A metal or composite door can look like real wood

Add wrought iron accents with studs, clavos and spear points

Consider vintage iron accessories like handles, hinges, door knockers and step plates
Colors range from white to more rustic and even dark shades

Two-tone is also acceptable

Try to get a weathered look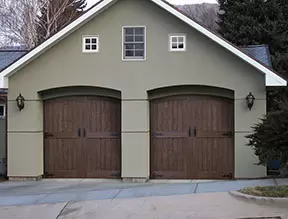 Aluminum and steel doors can be powder coated with rustic shades, metallics, and "vein" types of painting in both    glossy and matte. Glossy is easier to clean and lasts longer, while matte gives a softer, warmer feel with a little more TLC required to maintain it's classic look over the years. Powder coating has the advantage that it will last for many years.
Garage doors are not commonly constructed from actual reclaimed wood for safety reasons.  The newer aluminum, steel and composite materials can give the look without sacrificing safety.  These doors often require spans of 16-18 feet or more, so structural integrity is essential. After all, you don't want a garage door to fall or even sag, because they are hanging "heavy over thy poor head!"
A small gallery of pictures is included here. But  remember that each of these doors can be white, light, or dark in color. Try to match the scheme of your home in a harmonious way.   The home with a green roof for example, could include green panels with white planks. You are limited only by your imagination and good taste.