Turano Bakery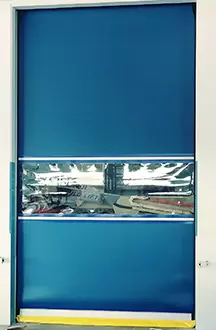 Garage doors must meet special requirements in certain environments.  One of those areas is bakeries and other food service areas. Most of us never have enough freezer space in our kitchens at home – Imagine a 25,000 square foot freezer!  This is just one example of the special environmental conditions we encounter.  So what kind of door will be best for a gigantic freezer? Such environments require such things as:

High Operating Speeds to minimize loss of chilled air when entering and exiting the freezer space

High Insulating Values to keep the temperatures cold inside and warm outside the freezer

Cleanliness and ability to pass health inspections

Defrosting methods to get rid of condensation without damaging door hardware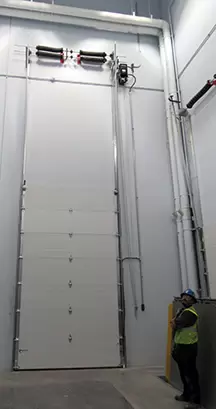 Martin Garage Doors of Nevada represents many different manufacturers in order to meet special requirements.  One such manufacturer is Rytec. Rytec makes a product called "Turbo Seal" that is ideal for freezer environments.  This high speed door can operate at speeds of up to 100 inches per second! This allows a forklift or worker to enter and exit the freezer with minimal impact on the inside temperature.  This product is specifically designed for low-temperature and food environments with its own built-in defrost system and low-temp bottom bar. The thick flexible curtain provides good insulating values.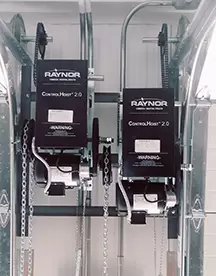 At the same time, and in the same building, the garage doors must provide security to the perimeter of the building, while allowing deliveries, loading and unloading of trucks, and smooth easy operation.  Raynor Garage Doors were used on the loading docks. The Raynor loading dock doors provide rugged security and smooth operation and will last for many years.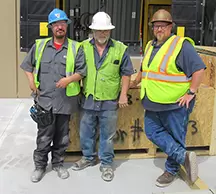 We recently completed the door installation at Turano Bakery in Henderson, Nevada (https://turano.com).   For over a half century, the Turano family has followed European traditions to bake the freshest, highest quality artisan-style breads such as Ciabatta, Focaccia, Hearth-baked Peasant breads, and a variety of rolls. The extensive line of specialty breads and rolls can be found across the United States on a frozen basis.