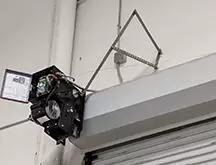 The photo shows why you don't hire residential companies to do commercial jobs. The owners of a luxury car company called us for a 2nd opinion and this is what we saw! Maybe they're using the punched angle brace for a TV antenna?
Particularly on steel rolling doors, the operators must be solidly braced because they are holding curtains that weigh up to 1,000 pounds or more! Yes, rolling steel doors are supposed to be "in balance" and the torsion springs are supposed to offset the weight of the door curtain.
But steel rolling doors are different than sectional doors (the types of doors on your home). They do balance at the floor and at the header, but they DO NOT balance midway up. By nature, these doors are heavy in mid-travel, and if the operator's grip is not solid, over time the parts will wear and things can break and come loose.
Regular preventive inspections maintenance is required on electrically operated rolling steel doors to inspect the door, operator and the sprockets, keys and set screws that hold the operator's grip firm. Call us today to set up your business with preventive inspections and maintenance.