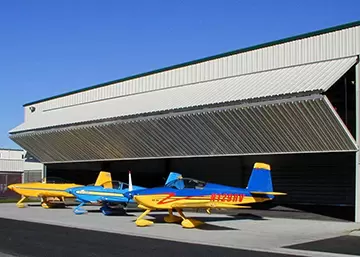 Las Vegas is a major airport hub. Clark County airport is one of the few major international airports that are in the middle of the city. Nearly 1 Million passengers per year visit our airport. One of the runways is the 3rd longest in the U.S. at 16,000 feet! Las Vegas is the 26th busiest airport city in the world by passenger traffic and the 8th busiest by aircraft movements. The airport has nonstop air service to destinations in North America, Europe, and Asia. It is an operating base for Allegiant Air, as well as a crew and maintenance base for Frontier Airlines, Southwest Airlines, and Spirit Airlines. We also have an airport in North Las Vegas and in Henderson that have large hangars with very big doors.
Funny story … when working at Martin Door Manufacturing years ago, Ken Martin gave up trying to explain to International clients where Salt Lake City was. Instead, he just said, "It's by Las Vegas!" People worldwide all seem to know where Las Vegas is because of its tourist reputation and its wonderful airport with nonstops to so many destinations.
And they have to store all of those airplanes and jets somewhere, and those buildings need great big doors. Where else can you call … Martin!