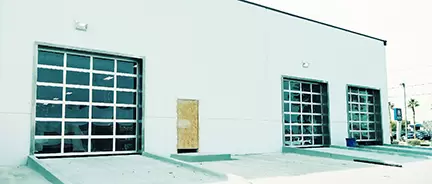 TESLA, the electric car manufacturer has locations in Nevada (cars average $100,000+).
Our commercial crews installed glass & aluminum sectional doors on one of their repair facilities.
The Martin commercial department can supply all kinds of commercial and residential doors for
garages, docks, warehouses, government facilities, schools, bus garages, and so forth. We are
also licensed for gate and dock work such as automatic gates, dock levelers, edge-of-docks,
truck restraints and much more. This was a particularly nice job for a well-known company.
One interesting fact – many residences are also using doors with this aluminum & glass look.
Martin Door Manufacturing is outstanding with this residential product, offering over 100 powder-
coated finishes and all of the required safety features for residential use.
When quality counts, call Martin!