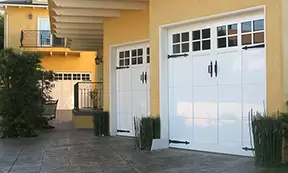 The Martin Pinnacle series features the luxurious look of wood at a significantly lower cost.  The Pinnacle series doors are constructed of either steel or aluminum.  The aluminum doors are priced in the same range as custom wood garage doors, but they are finished with powder coated paint in over 100 colors and textures.  The steel doors are very popular because they aremuch lower in price yet are amazingly beautiful.   Both steel and aluminum doors feature the Martin lifetime warranty.
In climates where heat and cold are extreme, the Pinnacle series of doors perform very well.  Wood doors do not fare well in extreme climates and require refinishing often as the years pass.  Failure to refinish doors when needed will result in water leakage into the wooden substrate causing premature deterioration, rot, mold and loss of paint or stain finishes.  Painted woods will peel if water is allowed to leak into the door.
Because wood doors are heavy, they will sag slightly each time the door is opened.  Plus weather shakes all garage doors causing microscopic cracks in the paint.  After only a short time, water does enter and begins to destroy the core of the door.
This problem is solved with pre-finished and powder coated metal garage doors.  Even with shaking, the paint adheres in a manner far superior to wood products.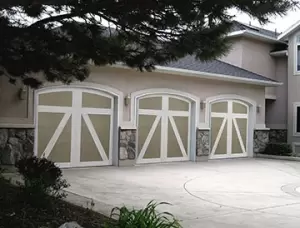 Martin has succeeded in producing metal garage doors that perform better and look at least as beautiful as wood doors.  Most owners agree that after only a short period of months the metal doors are more beautiful and are retaining the original finish better than wood.
Choose Martin today.  For a free quote, call 702-795-1000 or 1-800-959-3667.  Visit our website at www.martindoorlv.com.