It was David O Martin's Birthday on October 27th and thought I would pay tribute to him and his company today.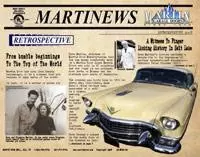 Martin Door has come from humble beginnings, to be a company that now reaches to many parts of the world.
In fact, it is a matter of pride for Dave Martin, chairman of Martin Door Manufacturing that the sun never completely sets on a Martin Door since Martin Doors are sold in 87 countries and are found in the northern most parts of Norway and the southern most parts of Argentina.
The company has roots back to 1936 in Santa Ana, California, when Dave's older brother Leno responded to a call in a church meeting for someone to build and install one-piece garage doors in Southern California.
Dave became a helper in the early days of the company as Leno became a force in the business. Leno was an innovator and came up with a one-piece overhead door that soon began to replace the popular swinging doors of the day. A complete one-car door sold for $16 installed. A two-car door sold for $29 installed. The company's market was the western U.S.
Dave Martin remembers installing new doors for Humphrey Bogart, James Cagney, Dorothy Lamour, Bob Hope and MGM in 1940/1941.
The Martins' business in California, however, ran into a roadblock in the 1940s when the inset of World War II changed the dynamic for local business. In 1942 Leno found government padlocks on a railroad car of lumber and steel with the note "the contents have been confiscated for the war effort. Call this number ——- to be reimbursed for any monies paid."
Leno said to Dave "we are out of business." This resulted in a move to Salt Lake City, Utah to join other family members.
When the war ended, Dave Martin was eager to get back into the business, which the government had shut down. He and Leno began building one-piece doors in Utah.
With little margin and cash flow, Dave was known for installing the door and then waiting outside the door to be paid, so he could use some of the proceeds from the sale to purchase more materials, and keep his growing business moving forward.
After working with his brother, Dave Martin purchased Martin Doors from his brother in 1951, after his brother was diagnosed with a terminal illness.
Since that reorganization Martin Door has continued to grow and expand its business. The company has become a leader in the industry with extensive safety patents and innovations. Every Martin Garage Door now comes standard with over 30 safety and quality upgrades.