-Interview questions to Ken Martin from Tom Wadswonth, editor of Door & Access Systems magazine
Ken Martin
1. Are you currently offering coated or galvanized springs (or both)? (Please briefly describe your offering.)
Galvanized torsion springs are included as standard equipment on all Martin garage doors. They are also sold in bulk or as single replacement parts.
2. If so, which option(s) are you offering, and in what year (approximately) did you start offering them?
In the early 1980's, Martin Door Manufacturing ® began working with spring wire producers to pioneer galvanized torsion springs. This product was introduced in 1985 and trademarked, Zinc-Tempered Torsion Springs ™ to differentiate them from the common oil-tempered springs in the industry. Using a patented process and higher quality metric spring wire, these unique new springs featured longer cycle life, clean handling and a pleasing look. Because of their unique properties, special spring charts were required. By 1987, Martin furnished Zinc-Tempered ™ springs as standard equipment on every Martin garage door.
3. What are the main advantages of the coated or galvanized springs that you offer?
Longer life, clean handling and a pleasing look. Installers have much less risk of leaving greasy fingerprints on a brand-new garage door using Martin springs.
4. How is your offering different from other coated or galvanized springs on the market?
All Martin springs feature metric wire sizes, an exclusive process achieving longer life, a cleaner look, a 20-40 year spring warranty and unique spring charts.
5. Of your total sales volume for springs, what percentage of those sales come from galvanized and coated springs? (I don't need dollars, just a percentage, if you don't mind.)
100% hot-dipped galvanized spring wire. This applies to springs furnished on Martin garage doors and all bulk and replacement springs.
6. In your opinion, do coated (or galvanized) springs represent the inevitable future for our industry, or will they simply remain an upscale niche market?
The industry will probably not move to galvanized torsion springs because of their higher cost and difficult manufacturing methods.
7. Any other comments?
We believe that Martin was the original inventor of galvanized torsion springs for garage doors in 1984. Over the years, the unique silver-colored springs have been one of the trademarks of a Martin garage door.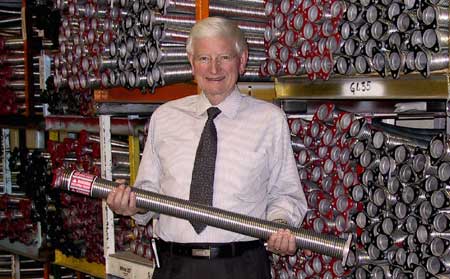 History of Coated and Galvanized Torsion Springs For Garage Doors
In the 1960's, Dave Martin of Martin Door Manufacturing began searching for a method of coating oil-tempered springs.

Oil-tempered springs had been utilized in the industry for many years and were reliable, but they were always oily and greasy. Garage door installers were infamous for their black, dirty hands and the resulting fingerprints on newly installed doors. Dave wanted a better and cleaner option.

Dave contacted a major spring wire manufacturer with his ideas. After a year of testing, he introduced the first coated springs. They had to be cleaned with solvents, and then painted with a heavy-duty baked-on black paint.

This new spring was clean to handle but had one major drawback. As the torsion spring wound and unwound, the rubbing of the coils ground the paint into a fine powder which sprinkled down onto the door, streaking it with powdered paint.

In the late '70's Dave began searching for a galvanized wire process. He came across a 100-year-old engineering book on spring wire. In this book, he found a section written by an engineer who had done research on hot-dipped galvanized spring wire. He read with interest as this engineer explained that successful production would require overcoming several major obstacles, which he listed.

During this same period, the U. S. Government was encouraging all Americans to begin using the metric system, so Dave continued his experiments using metric spring wire measurements.

His goal was to produce a torsion spring that was clean to the touch, while maintaining similar winding characteristics to oil-tempered torsion spring wire. He contacted a major domestic spring wire manufacturer and began working on the problem. The result was a colossal failure. They said it was impossible to make.

Rather than give up, he went overseas and found a spring wire manufacturer who agreed to work in overcoming the obstacles by experimenting with different wire grades, applying various different hot zinc processes and modifying the standard engineering formulas. After two years of trial-and-error, Dave was finally was able to manufacture the first galvanized torsion spring from hot-dipped galvanized spring wire. This product was introduced in 1985.

Copper Garage Doors » « Custom Garage Doors Adapted To World's Most Crooked Street