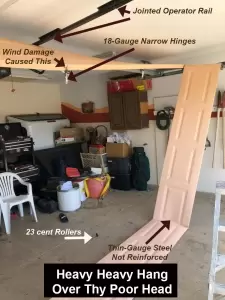 This garage door has all the trappings of cheapness. A garage door, as your home, should last over 30 years.
There were many causes of this terrible accident.  It began with the choice to use an extremely cheap door.  It was not properly reinforced, and the gauge of the metal was not thick enough to withstand the elements such as high winds.  The hinges and rollers are the cheapest available.  The operator utilizes a cheap jointed rail.
All garage doors (nationwide) are required to be certified to exceed 90 MPH winds.  Obviously this Las Vegas home did not meet that standard, and honestly this is the case with most low-cost doors.  Here, the wind beating on the door caused severe in-and-out shaking motions, probably thousands of times over the years.  In the same manner a paper clip breaks when you bend it back-and-forth enough times, an improperly reinforced garage door will develop vertical cracks in the face of the door as the wind continued to shake it.  These cracks become a weak point and further wind damage continues to progress until the door finally collapses.
The solution:  Call Martin where you can receive Quality at Competitive Price.
"The bitterness of poor quality remains long after the sweetness of low price is forgotten." – Benjamin Franklin (1706-1790)