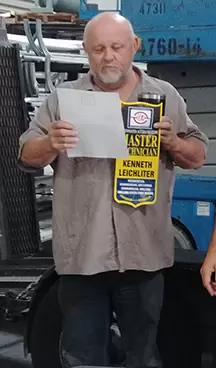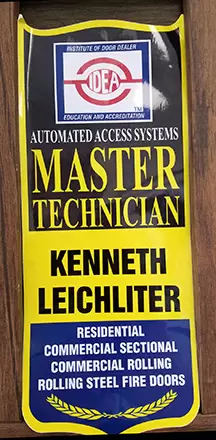 PRESS RELEASE
Local Technician Receives
Industry's Highest Credential
Published on Wednesday June 27, 2018 (12:54 PM)
Submitted by Institute of Door Dealer Education and Accreditation
Kenny Leichliter, a door and access systems technician with Martin Garage Doors of Nevada, in Las Vegas, has been designated as a Master Automated Access Stystems Technician by the Institute of Door Dealer Education and Accreditation (IDEA).  It is the highest level of professional credentialing available in the door and access systems industry.
The designation is awarded only to individuals who successfully complete four industry certification programs, covering Residential Installation, Commercial Sectional Door Systems, Commercial Rolling Door Systems and Rolling Steel Fire Doors.
Candidates must document training and experience in each of these areas, and pass comprehensive written examinations covering each of these disciplines.  Continuing Education is required for each credential, and all must be held in active status in order to maintain the Master Technician status.
Door and access systems dealers are companies that sell, install and service a wide range of automated door and access systems, which typically include residential garage doors, commercial doors, rolling steel doors, fire doors and retail grilles.  Such products are most often automated, requiring special knowledge and skills to ensure the products are dependable, safe and secure.
IDEA is a non-profit 501(c)(3) organization created in 1995 to serve the general public by promoting safety and high professional standards in the door and access systems industry.  IDEA Accreditation is endorsed by the Door & Access Systems Manufacturers Association (DASMA) and the International Door Association (IDA).
The educational institute also administers professional certification programs for Commercial Sectional Door Systems Technicians, Commercial Rolling Door Systems Technicians, Rolling Steel Fire Door Technicians and Automated Gate Operator Installers.