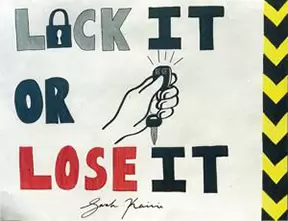 Just think of it as another "key" to your house, police officers say. A national crime wave is raging that involves your garage door remotes. Burglars prowl neighborhoods, grocery store parking lots, and streets around town looking for unlocked cars. They search the car, looking for a garage door remote. With that remote and your vehicle registration, they have your address and a key to your house.
Police across America are warning citizens to "lock your cars" and to keep remotes hidden.
A common practice among thieves is to watch your house until nobody is at home. Then they simply drive up, use your remote to open the garage door, drive into your garage and close the door. And no one will be the wiser – most neighbors will think nothing of your garage door opening and a car driving in.
Once inside, they will clean out your garage, then enter your house looking for anything of value that will fit in their vehicle. When finished, they open the garage door, drive out, close it and drive away. Most of the burglaries occur in the early morning hours. But even in broad daylight, it all looks so natural.
Some homeowners wake up in the morning and find their garage door open and realize that items were stolen from their house during the night.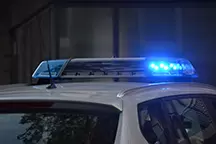 In a single sheriff's department in Virginia last fall, there was a rash of 5 such burglaries reported in one week. These undesirables are not only looking to loot your property – they might intend to hurt you or a family member. The lowly garage door remote has become an "open door" to homes all across the nation.
It is up to you to safeguard your home and your family. Lock the exterior doors, and especially the interior doors leading from the garage into the home. Lock your car whenever it is parked outside. Don't leave remotes in your car, or if you do, make sure they're out of sight. Use built-in "Home Link" remotes in your car – those are extremely difficult if not impossible to steal.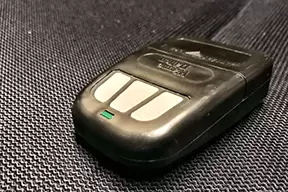 "Mini-remotes" that will fit in your purse or your pocket can be purchased from a licensed professional garage door dealer at a moderate price (although the remotes that lock and unlock your car cost upwards of $350.00, a mini garage door remote may cost less than $50.00).
We express gratitude to the Tracy Press (http://www.goldenstatenewspapers.com/tracy_press/) for the "Lock It or Lose It" sketch. Many thanks to scores of media outlets and emergency response teams everywhere who continue to alert the public of this emerging hazard.