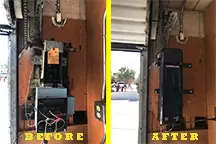 Our installers found this commercial jackshaft operator on a "sheet door" at a residence last week. It was quickly replaced with a Liftmaster residential jackshaft operator that complies with the latest standards.

A sheet door is the type of door that is ordinarily used on mini storage units and other low-use warehouse applications. It is nothing more than a flexible corrugated sheet of steel that rolls up and down. When it is open,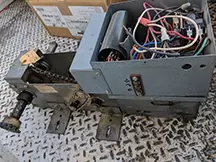 the door rolls into a coil at the top above the door opening. The sheet rolls down in a track to close the opening. These doors have very few moving parts and are not made for high use. Without special wind locks in the tracks, the sheet curtain can blow out of the guides in high wind. But they are an affordable door in occasional-use areas such as storage units.
Occasionally someone uses a sheet door on a residence, and that was the case here. The problem is that sheet doors require special electric operators that close the door by turning the coil rather than by pulling it up and down.
UL 325 is the standard that dictates safety guidelines for all residential operators. By installing
commercial operators on residences, the owners and their family are exposed to the dangerous forces without the safety devices to protect them. Commercial operators rarely meet residential safety guidelines such as the requirements for entrapment protection. Most residential operators use photo eyes as entrapment protection devices. In addition, many residential operators use "inherent" entrapment protection by sensing an overload in the electrical current and reversing the door.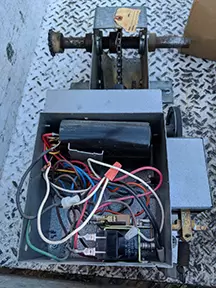 Each year, thousands of people are seriously injured or killed in garage door related accidents. So these safety standards are extremely important to follow. The old commercial operator on this door did not meet safety standards, so it was an "accident waiting to happen."
Inspect your garage door operator today. Make sure it carries the UL label and shows that it meets the UL 325 safety standard. If you cannot find the UL label, or you can't tell if your garage door meets these standards, call us today for a free safety inspection.