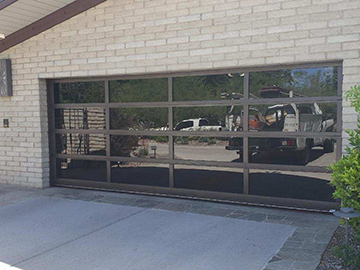 Most of us have seen the new "glass garage door" look. It's commonly used on higher-end homes, but is suitable for any home. But Martin has some advantages. These doors have always been made of aluminum, in order to get the look.
Dating back to former years, this look originated on service stations, tire stores, lube shops and other commercial locations. But every so often somebody would install one on a home. Now it's one of the hottest looks in the garage door industry.
This door was manufactured by Martin Door Manufacturing and is actually formed from steel, which is a far less expensive material. It's 18′ wide and 7′ high, which is extra wide to give more room for larger vehicles, etc. The door features tinted glass, bronze powder coated steel rails and stiles for a beautiful look and extraordinary curb appeal.
Doors of this type are special order only, and are custom sized and colored to your likes and desires. Adding this many windows to a garage door does run the price up and does decrease the insulation value somewhat, so you may not want to use this model in a heated or cooled environment. For more information, see http://ow.ly/4j6Y30l39FB