HAPPY EASTER!  – Update on our own Easter Bunny!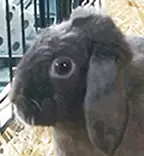 Here is the latest update on Spring the Garage Door Bunny. Rescued from an abusive situation Jan 22nd, he was mean and ill-tempered but today Spring is a happy 24-hour resident at Martin Garage Doors!
Just last week, Spring's quarters were update with a new water dispenser, bathroom box, chewie toys, and tooth-cleaner sticks.  A new cage is in his hear future.
Just in case anyone is wondering, the total budget spent on Spring has been under $20 per month.  The rescue shelter made sure he was healthy and that he had all of his shots and other care.  There is no reason that other individuals and businesses wouldn't enjoy their own rescue pet.
Enjoy Spring's live feed on his own Facebook page.  Like his page at facebook.com/realspringlv/. Please share with all of your friends and neighbors!