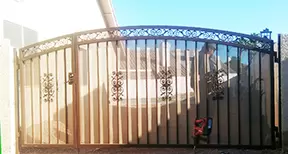 Here is a gate we built – yes we are a gate contractor too. Several years ago our door customers kept asking if we could take care of their gate work. We agreed and applied for the contractor licenses, etc.
Today we've come a long way and have technicians who are certified gate installers. But we are focusing mainly on commercial and repair type gate work.
Many of the same manufacturers of garage door openers also manufacture gate openers. The industry shows always include gate opener manufacturers. The same certification organization we use also does gate certifications for the International Door Association, the American Fence Association, and the Door & Access Systems Manufacturer's Association International.
Garage Doors, Dock Levelers, Commercial Doors, Fire Doors, and … Gates.