Martin garage doors dispel the notion that "parts is parts."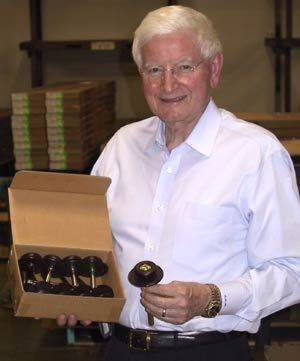 Martin Door takes anything but a casual approach to the parts that make up its garage door. That's one of the reasons Martin Door can claim they manufacture "the world's finest and safest garage door."
Taking a closer look at the unique roller that is part of each door, illustrates this approach.
Like many of the Martin Door inventions, coming up with the perfect roller was an extended process for David O. Martin. It was a combination of learning from the school of hard knocks, combined with innovation. That process has taken over 20 years, according to Dave Martin.
Martin wanted a roller with the quiet nature of nylon and the durability of steel. A roller made of nylon is too brittle, while a steel roller is too noisy. He had to work to find the best of both worlds.
Dave Martin, CEO of Martin Door Manufacturing, shows off a box of the unique rollers that are a key part of each Martin garage door.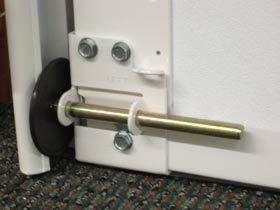 In setting out to make the perfect roller, he increased the number of ball bearings in the roller to 11, to increase its longevity and quiet operation. The high quality hard ball bearings are self-contained in a hardened steel race. He then packed those bearings in synthetic grease that adapts itself to the severity of climate changes without any change in consistency. All of these passed Martin's strict 100,000 cycle door test.

Then he went to work on the shaft of that roller. The shaft on the Martin Door roller is made of galvanized steel. The rust resistant covering is a yellow zinc coating often affectionately referred to by some dealers as a "gold zinc finish."

The coating on the roller is a testament too of an on-going quest for excellence at Martin Door. The tire on the roller is made of Delrin, a polymer substance made by DuPont.

Initially the tires would only last about five years before showing signs of cracking. Unhappy with that result, Martin officials tried other consistencies in the resin before finding the right combination.

The innovation hardly stopped there. David Martin also lengthened the bottom roller on his doors. The significance of that move is noticeable in earthquake areas where the slightest tremor will normally knock the rollers off most garage doors, making them inoperable. Not a Martin Door. The longer roller shaft also makes the door harder to sabotage.

The most noticeable difference between a conventional roller and that of a Martin Door is the patented roller shield. The roller with roller shield must only be used on Martin doors with hemmed vertical tracks. The oversized shield makes it difficult to actually see the roller on an installed Martin Door—-thus providing a barrier as well from hands getting into the track and potential jeopardy. The roller shield actually helps push little hands out of harm's way, or hands away from danger. Again Dave Martin spent endless hours and tried different things, before coming to the right size and dimension for his shield.

Dave Martin went with a larger-than-industry standard tire, which increases its safety value, and also made the rollers more difficult to dislodge. His invention made the standard roller nearly ¼" larger in diameter than rollers made by other manufacturers.

For some it's safe to assume that "parts is parts" but not with a Martin roller. It's no coincidence that the roller has a lifetime warranty.

Custom Garage Doors Adapted To World's Most Crooked Street » « From humble beginnings To The Top of The World