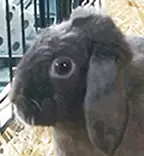 Introducing "Spring" the Garage Door Bunny!   Rescued yesterday, he is one year old, and alone.  His previous owners were very abusive and as a result he has emotional problems today.  But today in his new environment surrounded by love, he is thriving.  
We named him "Spring" in honor of garage door torsion springs, and because he is bouncy.  Spring is the new mascot at Martin Garage Doors of Nevada.  
Spring has his own Facebook page and my sons put up a 24-hour live stream on Facebook. 
Over 1,000 views his first day!!!