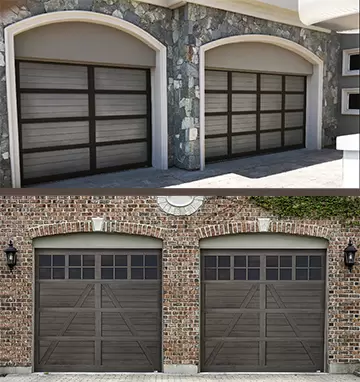 When Martin introduced the Steel Pinnacle model, the fun began. First modeled after the Athena glass and aluminum model, this outstanding model has developed into one of the most stylish, versatile garage doors in the industry.
At the right is pictured two different styles of the Pinnacle model, both featuring steel frames and steel panels. The windows on the lower door are available in glass, textured acrylic, frosted glass, and a host of other options.
Every door is available in over 100 colors and finishes. Completely customizable, even the hundreds of standard options pale in comparison to what the appearance of this door can be made to show. With probably more curb appeal than any other brand available, options include hundreds of sizes, designs, window patterns, window colors and finishes, and panel configurations.
It sports a model and color finish to match every home, and a price tag to match. Running much less cost than the top-of-the-line aluminum models, it has quickly become a popular choice around the country. Call us today for a customized door with a customized price for your budget. Financing options available.