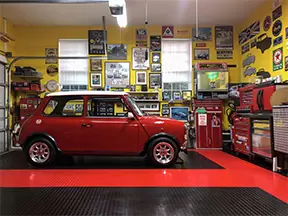 This blog post was featured on an article on the Redfin website! https://www.redfin.com/blog/garage-cleaning-tips-for-the-overwhelmed/
Tip #1: Much of the dust in your garage comes from the floor.  Anytime you sweep your floor, you will see a lot of dust,some of which comes from the concrete.  This dust can be minimized by either sealing your garage floor with a coating product designed for that use, or by installing new flooring tiles such as RaceDeck ® or a similar product.  These can be installed by a garage professional or done as a DIY project.
Tip #2: #2 – Some people do not have the problem in Tip #1 because they just can not see their garage floors! But many homeowners fill their garage with storage boxes, tools, garbage, old records, and so forth.  In fact, it is extremely common for homeowners to rent storage units for this purpose (the cost of these is much higher lately!). We recommend ceiling storage racks or shelving to help use more of teh space in your garage by getting the boxes and holiday decorations off the floor and organized overhead. Ceiling racks can be purchased at a nominal cost or can be furnished and installed by a garage professional.